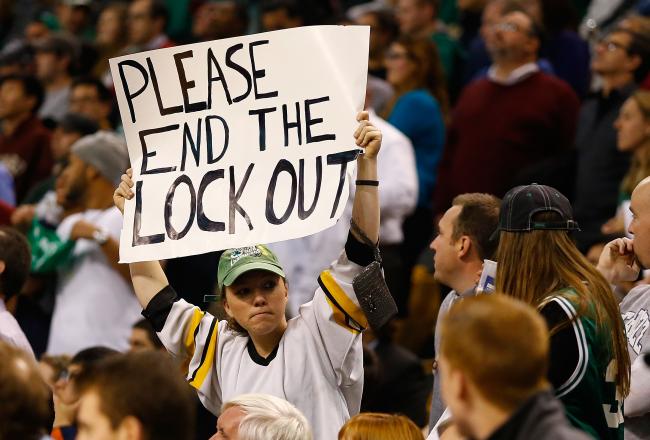 It's Day 74 of the NHL Lockout and hockey fans are really starting to get worried about losing another NHL season to labour negotiations and stubbornness. With more game cancellations and far too many basketball highlights on TV, the Lockout is really starting to get to us now. Drinking beers on Saturday nights just doesn't feel the same without some NHL hockey on, and the pain from those beers on Sunday afternoon is much worse without any matinee games to watch. We miss NHL hockey like Dion Phaneuf misses the net.
Here are some of the things we've really been missing the past two months:
Watching the doubleheader on Saturday night at a bar through beer goggles.
Routinely checking my fantasy hockey leagues for free agent bargains or offering trades for the sake of offering trades.
Surprise in the standings. Seeing a team start hot when they were expected to be a basement dweller. Or, seeing a top team from last year struggle out of the gates. Parity is awesome.
Hockey highlights before bed and in the morning. Watch that shit all day.
Seeing a player crack the NHL roster when he wasn't on anyone's radar.

NHL rivalries. Even if it is Boston spanking the Leafs, rivals are the best.
Dirty Dangles. Watching one player embarrass another makes us smile.
"Talking shop" as we call it. Hanging with the boys and talking about the greatest game on earth. We should be talking about last nights games, not about the secret meetings on the weekend.
Hockey Night in Canada. I feel like a religious person who hasn't been to church in months.
The Amazing Play: These happens maybe once or twice a year, but everyone talks about it for a few

days and Twitter just explodes with chatter about it.

Waking up hungover on Sunday to watch Pittsburgh vs. Philadelphia/New York/Washington
The Great Comeback. Watching your favourite team catch fire in the 3rd and totally dominate play to tie it up late and win in overtime. Doesn't matter if your team is 10 points out of the playoffs, those wins are memorable.
And of course: Ice Girls. Yes, they are just hot girls that can skate, but damn that is hot.
What are you missing during the NHL Lockout?