Everyone knows how good Jaromir Jagr is. Five Art Ross Trophies, three Ted Lindsay Awards for most outstanding player voted by the NHLPA, and one Hart Memorial Trophy as league MVP help hammer that point home. We've all seen Jagr put up big points - 1658 NHL points to be exact - and as the all-time leading scorer for all European players you know that he is destined for the Hockey Hall of Fame whenever he decides to hang up his skates. Currently though, Jagr sits 8th all-time in NHL scoring which is a bit of surprise due in large part to the fact that he's played through three NHL Lockouts and played in the KHL for three years. Given his time away from the NHL, it's not unreasonable to think that he would have been only the second player in NHL history to hit the 2000-point mark and sit only behind the great Wayne Gretzky in career points.
So let's get hypothetical and see where Jagr missed out on joining exclusive company:
Pre-1994 NHL Lockout
Jagr started his NHL career with the Penguins in 1990 and in those four years before the NHL Lockout he put up 319 points. While his goal totals stayed constant, his playmaking took off and his numbers improved every year from 57 points as a rookie to 99 points in his fourth year. 319 points is a solid number of points for any 21-year-old NHLer.
1994-95 NHL Lockout
In the shortened 48-game season, Jagr tied Eric Lindros for the NHL scoring lead with 32 goals and 70 points. With a point-per-game average of 1.46, Jagr was on pace for 120 points in an 82-game season. Lets assume that Jagr missed out on 50 points from the 1994-95 NHL Lockout.
Between NHL Lockouts
Between the 94-95 and 04-05 NHL Lockouts, Jagr put up 920 points and won the Art Ross Trophy four straight seasons from 1997-98 to 2000-2001. In that time span,
the next closest player in total scoring was Joe Sakic with 776 points
, a whole 144 points behind Jaromir. Despite a rash of injuries beginning in 2000, Jagr still remained a point-per-game player and had some dominant performances. Heading into the 04-05 NHL Lockout at age 32 Jagr already sat at 1309 career points.
2004-05 NHL Lockout
While it's tough to judge what Jagr would have notched during this season because he was constantly injured and the most points he had put up in the previous four seasons was 79, he did play consistently overseas during this Lockout so we'll say he would have been put up around 80 points. That's 130 points lost to Lockouts now.
Post 04-05 Lockout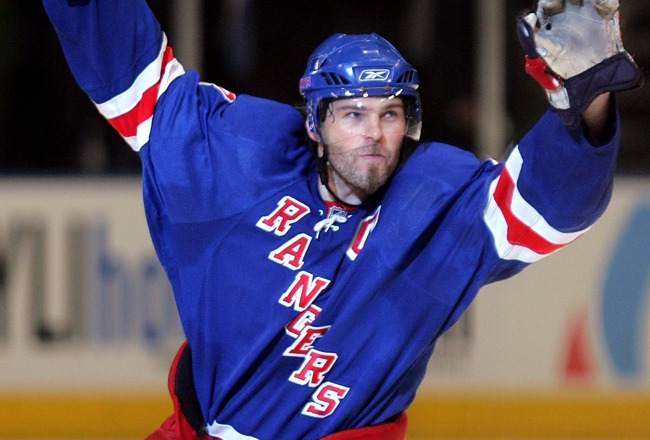 Jagr returned from the NHL Lockout with the New York Rangers and put up the third highest single season point total of his career with 123 points. Jagr didn't miss a game in his three seasons following the lockout and while his point production declined in that span he still
put up 290 points in three seasons
to bring his career point total to 1599 at the age of 35.
The KHL Years
Becoming a free agent for the first time in his career, Jagr bolted for the newly formed Kontinental Hockey League in Russia by signing with Avangard Omsk. While he said he needed a break from the 82-game schedule of an NHL season, Jagr missing three seasons really killed his chances at hitting the 2000-point mark. Still a point-per-game player over in Russia, let's say that Jagr posts an average of 60 points a season in the NHL those years. That's 180 points lost in Russia and 310 points total points lost due to lockouts and the KHL.
Return To The NHL
After stating he would like to return to the NHL, many hockey fans went into Jagr Watch Mode as rumours of where he would sign as a 39-year-old began to take off. Ultimately, Jagr signed in Philly and playing on the top line with Claude Giroux he posted 54 points in 73 games. That season increased his career numbers to 665 goals and 1653 points and we wondered if we had seen the last of Jagr before both he and the Dallas Stars shocked us by agreeing to a one-year, $4.5M deal for the 2012-12 season which would see him turn 41-years-old in the middle of his contract.
2012-13 NHL Lockout
We didn't know if we'd ever get to see Jaromir Jagr in the NHL again due to his third NHL lockout, but he did keep busying during it playing overseas for his hometown team, HC Kladno, in the Czech Extraliga. Playing with fellow locked out NHLers Tomas Plekanec and Jiri Tlusty who he helped lure to the squad as part-owner of the team, Jagr put up an impressive 24 goals and 57 points in 34 games for
third most points among NHLers playing overseas
. Let's make the assumption that Jagr's point total in the Czech Republic wouldn't fully translate to the NHL and give him 20 points lost for the 34 NHL games cancelled in the 2013 shortened season. Now we're at 150 points lost to lockouts and 180 points lost in the KHL for 330 total points lost. Throw those point totals into his pre-NHL 13 season 1653 points before this season and you have him sitting at 1983 total NHL points.
2013 NHL Season
In his first game with the Dallas Stars, Jagr wowed hockey fans by putting up
2 goals and 2 assists
. While he's struggled since and even sat out a game with a back injury, Jagr still looks great and even has a new linemate in Jamie Benn to help rack up some points. Currently sitting at 5 points on the year, Jaromir would have only needed 12 more points to hit the 2000-point mark.
Sure this is all hypothetical and Jagr probably would have torn his groin and missed a year of action, but it sure would have been fun to see Jagr pass some of the greats such as Mario Lemieux, Marcel Dionne, and Ron Francis. Hell even if you only take into account lost points from lockouts there's a chance we could have seen Jagr approaching Gordie Howe's (1850) and Mark Messier's (1887) point totals.
What do you think? Would Jaromir Jagr have hit the 2000-point mark?