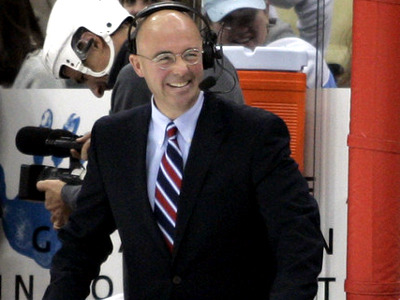 Pierre McGuire is well known in hockey circles for his over-the-top calls and player hard-ons. Hell, he even
has his own drinking game
. For those that have had the honour of listening to Pierre during the World Juniors or between the benches in the NHL, you know exactly what we're talking about. It seems as though Pierre McGuire knows where every hockey player was born and knows their grandparents names. His colour commentary is often useless and his love for certain players goes deeper than a mothers love for their child. Perhaps the biggest thing about Pierre are his catchphrases: "monster", "big body presence", "el-kabongo", and "fine young man" are just a few to name. Throw his random knowledge, player boners, and painful catchphrases together and you have a bonafide player ruiner. While he hasn't actually ruined any players careers, he's ruined the way we think about certain players when we hear their names.
Here are a few players Pierre McGuire has ruined for us:
Dion Phaneuf
Phaneuf was a beast of a junior player who always threw his weight around, hell he still is. Playing for Canada at the World Juniors in 2004 and 2005, Phaneuf was well known for his big hits on the international stage. While he had a number of big hits in the two tourneys, the "Double Dion" against Russia is what everyone will remember as he hit both Enver Lisin and Dmitri Pestunov off the puck and got Pierre McGuire all excited. :





Shawn Belle
Belle's bounced around the AHL and is currently playing for Adler Mannheim in the DEL, but he did represent Canada at the 2004 and 2005 World Junior Hockey Championships. While at these tourneys, Pierre McGuire always raved about his physique. From saying he has muscles on muscles, to even discussing how he saw Belle in the locker room without a shirt on and that he has a man's body at 18. It was all very disturbing.


DUSTIN TOKARSKI
We can't even say the former World Junior's name without wanting to yell it because of Pierre. Even when we type his name it has to be in caps lock. DUSTIN TOKARSKI got Pierre's attention with this save on Colin Wilson in the 2009 World Juniors and has lived in infamy ever since:
Luke Schenn
When the Toronto Maple Leafs selected Luke Schenn at the
2008 NHL Entry Draft
 Pierre could barely contain himself. Schenn had been getting the Shawn Belle treatment from Pierre since the World Juniors earlier that year and was deemed a "savage physical specimen" for his physical play. However, the moniker of choice for Pierre on Luke Schenn would turn out to be the "Human Eraser." What a horrible nickname, especially since Schenn often looked like a practice cone out on the ice.
Hal Gill
The Trade Deadline is often the most overhyped day of the hockey season, and for some reason Pierre decided he had to get all weird during the 2008 Trade Deadline as he discussed Hal Gill's long stick and creeped the shit out of Darren Dutchyshen:
Has Pierre McGuire ruined the way you think about certain players?