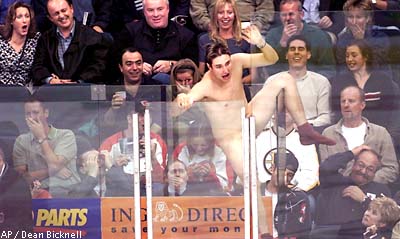 It's never a good idea for fans to enter the surface of play at a sporting event. It
doesn't end well in football
, it
doesn't end well in baseball
, and it certainly doesn't end well in hockey. People can
barely walk on a sidewalk with patches of ice
, so why would they want to attempt to have some fun on a 85 foot X 200 foot ice surface? It's really high risk-low reward to even attempt it. Fans don't like it, paying fines suck, and players don't like you being in their workspace. In fact, we can only find one incident of someone being on a rink without skates and coming out unscathed:
James Bond
.
Here's three reasons why fans shouldn't jump the glass at hockey games:
1. Ice is slippery
Not many will forget when
this streaker attempted to get onto the ice
during a Flames/Bruins game back in 2002 wearing nothing but socks. While he did make it over the glass, he couldn't stick the landing and hit the back of his head on the ice. Unconscious for a bit, the fan was covered up and removed on a stretcher leaving his dignity in the stands with his clothes. Remember, socks and ice don't go together.
2. Linesmen
That's linesman, Ron Asselstine, rocking a fan into the boards as he attempts to get to referee, Bill McCreary. Upset about a non-call,
the fan simply wanted to talk to McCreary
, but instead got to talk to advertising on the end boards. You may have noticed from watching hockey that linesmen are great skaters. They have great little bursts of speed for retrieving pucks and calling offsides, but they also use their speed to charge from the blueline to hit stupid fans.
3. Rob Ray
Rob Ray's
Punch Corsi
is off the charts here. We count 15 punches thrown in 5 seconds. It's never a good idea if you do make it on the ice to try and engage players. Most of them are probably much bigger than you and won't take too kindly to you invading their space. In addition to hopping the glass to get on the ice, don't push up against the glass surrounding the penalty box if you're overweight...