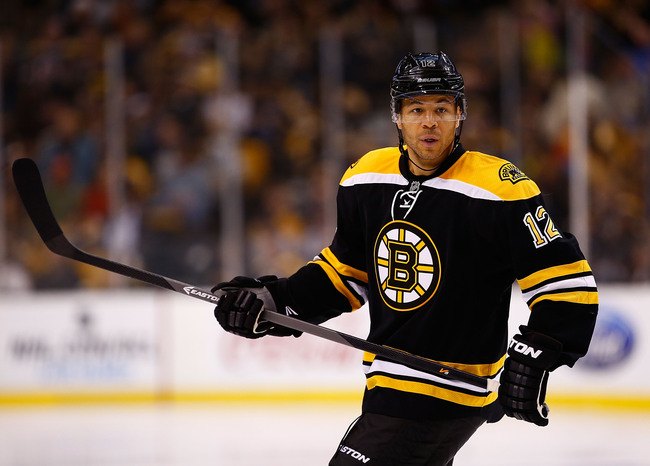 He's definitely crying when he returns to Calgary.
The NHL season is full of must watch games, but we've got it narrowed down to 10. From player returns to specialty games, this season is chalk full of them after a 48-game season in 2013. Sure every Penguins/Capitals or Hawks/Canucks game are worth seeing, but there's some intriguing storylines this season that we want to see unfold. How hard will players deemed traitors get booed? How many tears will returning heroes shed? How will the ice hold up in a certain warm city that is hosting an outdoor game? So many questions and we want answers.
Here's the 10 games we're looking forward to this season:
Date: October 1st, 2013
Teams: Toronto Maple Leafs @ Montreal Canadiens
Why: It's the first game of the season and after 108 days since the Blackhawks hoisted the Stanley Cup it's time to start the quest again. About fucking time!
Date: October 13th, 2013
Teams: Ottawa Senators @ Anaheim (Mighty) Ducks
Why: Bobby Ryan returns to Anaheim? Hell no. It's
Throwback Night
and the Ducks will be rocking these bad boys:
Date: November 7th, 2013
Teams: New York Rangers @ Columbus Blue Jackets
Why: Rick Nash returns to the team he led for many years
before being thrown under the bus by Scott Howson
for asking for a trade.
Date: November 7th, 2013
Teams: Florida Panthers @ Boston Bruins
Why: Tim Thomas returns to Beantown for the first time since going AWOL. Thomas was a Boston hero for standing on his head in the playoffs and
being a bully to Henrik Sedin
so it will be interesting to see the reaction he gets.
Date: December 1st, 2013
Teams: Detroit Red Wings @ Ottawa Senators
Why: Daniel Alfredsson returns without his clown cut and we're eager to find out the reception he receives from the Ottawa crowd after leaving the team during free agency. We're sure he'll be cheered, but some Sens fans have to feel betrayed and
there's always the chance some Leafs fans crash his homecoming
.
Date: December 10th, 2013
Teams: Boston Bruins @ Calgary Flames
Why: Iggy returns home to Calgary and he'll receive the warmest of welcomes. Our money is on him tearing up, and then helping the Bruins tear the Flames up.

Date: January 1st, 2014
Teams: Toronto Maple Leafs @ Detroit Red Wings
Why: Winter Classic! Finally we'll get to see the long awaited outdoor game at the Big House between the Original Six rivals. The game could be the highest attended hockey game in history so it should make for some great photos.
Date: January 25th, 2013
Teams: Anaheim Ducks @ Los Angeles Kings
Why: It's the California Winter Classic and we're curious to how it will go down. We're sure the ice will be good to go, but the crowd should be full of guys wearing shorts and
girls in bikini tops
(hopefully).
Date: March 20th, 2014
Teams: Minnesota Wild @ New Jersey Devils
Date: Whenever the Anheim Ducks play in 2013-14
Teams: Anyone vs. Anaheim Ducks
Why: Because it's Teemu's last season. But seriously, April 13th, 2014 could be the Finnish Flash's last game ever.